Tracking your phone have been made easy nowadays. This is due to the apps that can utilize the GPS function in your phone as well as the hardware of your phone itself. You can use your phone as a tracking device for yourself or for others to track and find you. The accuracy of the location tracking has also improved nowadays. However, not many people are aware of this amazing function that is embedded in some of the software that we used on a daily basis. So, here are the five effective ways how you can track your friend's phone.



1. TRACK LOCATION USING GOOGLE
One of the easiest ways to track your phone is by using Google itself. There are many ways how you can use Google. If you are using Android or your friend's phone is an Android-based phone, you can use the Android Device Manager to help you track the phone's location. You can visit the Android Device Manager website here. You can also use Google Maps and Google account to track the location of your friends and families. Read more here on how you can track your phone using Google.
2. TRACK LOCATION USING WAZE
Waze is a popular app that people use to get to where they want to be. However, Waze also has the function of adding your friends. Whenever your friends are using Waze, it will automatically tell you where they are, and their location is shown on a map. You can also share your location with them as well. The good thing about Waze, it will track you or your friend on real time. You can also even chat with your friend using Waze. Here are six simple steps on how you can track your friend's location using Waze.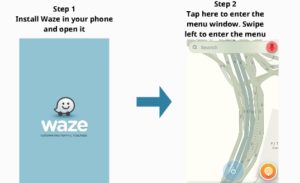 Step 1
If you have not yet installed Waze, you can download it from Google Play or Apple store. Once installed, open the App



Step 2
The first menu would be the real-time map menu where you will be shown your location. Swipe left to enter the Waze menu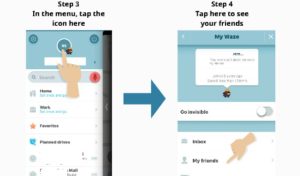 Step 3
In the menu, tap the icon at the centre here.
Step 4
Your friends that are currently using Waze will appear online here.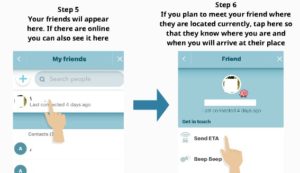 Step 5
Tap on your friends that are online.
Step 6
If you plan to meet your friend. Tap at the "Send ETA" so that they will know where you are and when you will arrive at their place



3. TRACK LOCATION USING WHATSAPP
WhatsApp is probably one of the best instant messaging application available in the market. It is used by most people as a way to send and receive messages to your friends and families. You can also send files and video using WhatsApp to your friends. Read here more if you want to know what other things you can do with WhatsApp. However, you can also use WhatsApp to send your location to your friends or vice-versa. Read here on some the top tips in using WhatsApp. Here are five simple steps how you can track the location of your friends using WhatsApp.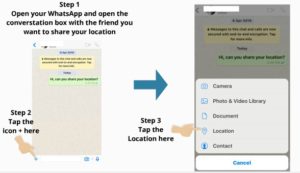 Step 1
Install WhatsApp from the Google Play or Apple Store if you do not have the WhatsApp application yet. Open your WhatsApp and open a conversation box with the friend you want to share the location.



Step 2
Tap the icon + here
Step 3
Tap the location here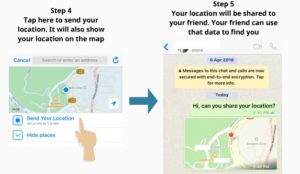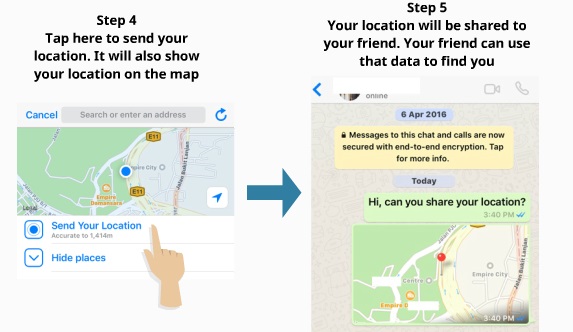 Step 4
Tap here to send your location. It will also show your location on the map
Step 5
Your location will then be shared with your friend. Your friend can then use the geo-data that you shared to track and find you.



4. TRACK LOCATION USING IPHONE'S "FIND FRIENDS"
Probably much not aware of this but iPhone iOS comes pre-installed with an app called "Find Friends". It uses the same technology as the Find iPhone apps where it tracks your iPhone's location based on your phone's GPS. Read here more if you want to know how to track your lost iPhone. Using the "Find Friend's" app, you can find your friend in real-time. The app is also very easy to use. Here are the steps you can use to track the location of your friends using your iPhone.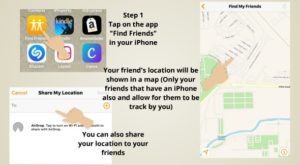 Step 1
Open your iPhone and tap on the "Find Friends" app.

Step 2
Your friend's location will be shown on a map. However, this only valid with your friends that have an iPhone. They also need to permit their location can be discovered by you. You can also share your location to your friend by sending your location using this app



5. TRACK LOCATION USING FACEBOOK MESSENGER
If you are a Facebook messenger, you probably have noticed some of the notification where your friends are nearby. Or Facebook can also notify where your friend is attending an event near you. This is because Facebook is utilizing the GPS in your phone to sync with your Facebook account. Facebook Messenger also utilizes the same technology so that you can share your location with your friends. Here are the steps on how you can share your location using Facebook Messenger.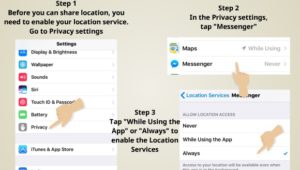 Step 1
Before you can share location, you need to enable your location service. Go to your iPhone's settings and choose the Privacy option



Step 2
In the Privacy settings, find Messenger and tap on it
Step 3
You will be given three choices. It will on "Never" as default. Enable "While Using the App" or "Always" to enable the Location Services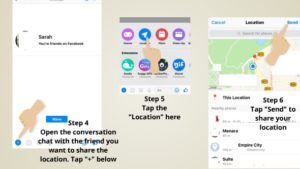 Step 4
Open the conversation chat box with the friend you want to share the location with. Tap "+" below
Step 5
A pop-up will show up. Tap the "Location" here
Step 6
Tap "Send" to share your location
Your friends can now see your location. You can also enable the location for a certain time until it expires (Max 1 hour)



So, there you have it. The top 5 effective ways on how you can track your friends using different apps available in the market. Be sure to check our previous article on what to do if you lost your phone. Please leave a comment on whether you have tried some of the apps here to help track your friends.
Related Posts via Taxonomies