Smartphones nowadays has become more and more important to people's daily live. They could not seem to get through their daily life without it. When you lost your smartphone, it is not just about the face value of your smartphone but also the intrinsic value of the data and information kept in your smartphones. Based on study by Lookout, the highest value the data on your smartphones are your photos and your contacts.



So, where and when do people normally lost their phone? Based on a survey conducted by Lookout Mobile Security, 44% of smartphones were stolen once the owners forgot and left them in public places. The most common places people left their smartphones are in restaurants and nightclubs. This fact shows that you can avoid the theft of your smartphone only if you have not forgotten to put back your smartphone into your pocket or purse. From the survey also shows that only 14% got their smartphones stolen or rob from their car or in their house.
However, with risk comes also the mitigation plan. You need to be prepare and do precautious step to avoid losing your most important device. Here are five tips on how to avoid smartphones lost and theft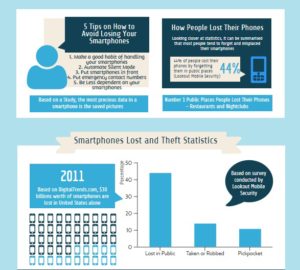 MAKE IT A HABIT
Make it a habit to put your smartphones immediately in your pocket or purse after using it. How to make this into a habit? You can start forming a new habit by consciously putting your smartphones in front of your pocket for 21 straight days. This will make your action to a subconscious action in which you will always make sure your smartphone guarded consistently. Another bad habit is by putting your smartphones on the restaurant table once you use it. This increases the risk of you forgetting the smartphones once you left the place. Make it a habit to immediately put your smartphones back into your pocket or in your purse once you have used it. Also never make it a habit to give your smartphones to your kids during your outings in public places.
AUTOMATE YOUR SILENT MODE
Another main reason people lost their phone is that could not locate it because it is in silent mode. Therefore this makes finding your phone a bit more difficult. Probably many people are not aware of this is that you can actually automate your phone's silent mode. Therefore you do not have to worry if your phone suddenly ringing when you are in the meeting just because you forgotten to put it in silent mode. This also will ensure that your smartphones are not in silent mode each time you are in public places. You can set when your phone should be on silent mode when it should not. Read and view here on how to automate your iPhone's silent mode.



PUT YOUR SMARTPHONES IN FRONT OF YOUR POCKET
Study made by Lookout shows that 11% of people who lost their phones through either pickpocketing or got robbed. If you are being robbed, there is not much you can do as your life is more important than your smartphones. However, you can avoid your smartphones being pickpocket by simply putting your smartphones inside your front pocket. The one problem people have about this is that the smartphones now are getting bigger and bigger. There is also an increase of trend for people to put their smartphones on the table or just bring it in their hands. To avoid pickpockets, put your smartphones in your front pocket always especially in public places.
PUT YOUR EMERGENCY NUMBER OR CONTACT DETAILS
Study from Lookout shows that most people lost their phones in public places that eventually lead them to be stolen afterwards. However, you can increase the chances of getting your phone return back to you by putting your emergency number or contact details in your phone. This emergency number can also be seen by anyone who found your phone even if your phone is locked. Another best practice is to put your business card inside of your smartphones cover. So, if you left your phone in public places, people who found it can take their own initiative to return it to you or they give them to the police for further action. Read here on how you can set your emergency contact for iPhone users.
BE LESS DEPENDENT ON SMARTPHONES
People have become too dependent on their smartphones and must bring it to all places that they go. Smartphones is a very recent invention but it already have altered the daily habits of people around the world. People before this have live without smartphones. Learn to live without it too often. The less you bring your smartphones around, the lesser the chance of the smartphones will be lost or stolen. The statistics shows that people usually lost their phones in public places such as restaurant and nightclubs. So, learn not to bring your smartphones if you are going to this places. After all, the reason you go to this places is to eat and social. And if you are worried that people could not contact you if there is emergency, buy a cheap phone when you are out socialising. The advantage is that you will not be distracted so much by your cheap phone and if you lost it, the impact would not be so much affecting you.



Related Posts via Taxonomies