The iPhone has become an important device to its user more so that the iPhone users will normally bring this mobile device everywhere there go. The iPhone have become a necessity for the users not just the use for connectivity but as well as entertainment, as navigation for guide to places, accessing the internet as well as doing some spread sheet office work as well. However, unfortunate event does happen when you least expected and this also involves losing your iPhone. This can happen either you misplaced it or it was stolen. Good thing for the users of iPhone is that iPhone can be considered as a small powerful computer that have GPS installed in it. With the wonders of modern technology, you can actually track your iPhone as long as it is not switch off and is connected to the internet. Here we will list down the top 3 ways you can track your iPhone if you did lost it.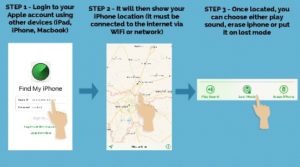 1. Track using Find iPhone App
The best method to track your lost iPhone is by using the 'Find iPhone' app that already pre-installed in your iPhone. The app is available for any Apple devices that have iOS 5 and above. Any users of Apple devices will have a unique Apple ID in which they are recognized within any of their Apple devices. If you have an iPhone and an iPad, it is likely that you are using the same Apple ID.



The good thing about having the same Apple ID throughout your Apple devices is that all your Apple devices interconnected to one another in iCloud. The reason for this is for the seamless interaction you can have with your data or files that you can share or upload across multiple Apple devices. With the iCloud environment, you are able to track where are your Apple devices are located in a map. Below are the steps.
Step 1
Login to your Apple account or iCloud account using other devices such as iPhone, iPad or MacBook.
Step 2
It will then show your iPhone location in a map. However, the iPhone must be connected to the internet via Wi-Fi or Cellular network for it to show in the map
Step 3
You have the option of play sound if you find that the iPhone is nearby, or erase the data if your iPhone is stolen and do not want any confidential information to fall in the wrong hand, or put it on lost mode.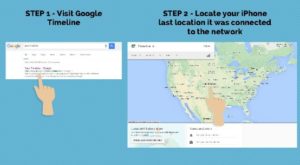 2. Track your iPhone using the internet
Besides the Find iPhone app, you can actually use other different apps and also services out there to track your iPhone. Remember that your iPhone is a small powerful computer that has an embedded GPS in it. Therefore, you can use this function to track your iPhone using other options such as Google and also third party apps. If you want to track your iPhone using Google Timeline, below are the steps.
Step 1
You can start by visiting Google Timeline. Just type Google timeline in the Google search engine.
Step 2
Login to your Google account. The Google timeline will then show the last location of your iPhone was connected via the internet or cellular network.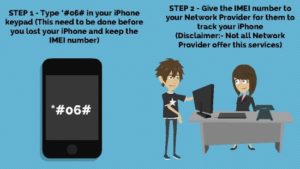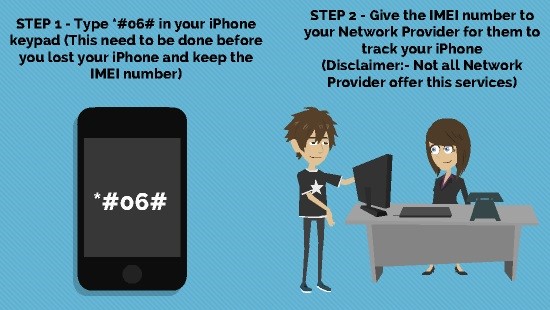 3. Track your iPhone using IMEI
IMEI stands for International Mobile Equipment Identity and which typically consists of 15 numbers. Your iPhone have a unique IMEI number. You can obtain your IMEI number by typing *#06# at your keypad and it will show you a 15 string of numbers. That number represents your iPhone IMEI and only unique to your iPhone. Another way to know your IMEI iPhone number once you lost your phone is by looking at the back of your iPhone at the bottom. However, if you already lost your iPhone and did not recorded your iPhone's IMEI number, you can always look at the box packaging that comes with your iPhone when you first purchased it. Normally, it is included together with the Box. What you can do with that IMEI number is to bring the number to your cell phone network operator and request for it to be blocked once it is connected to the network. However, some disclaimer here – Not all network operator have a tracking services for lost phone. Read more on how to find your phone using IMEI here. Below are the steps.
Step 1
Type *#06# at your keypad. Your iPhone screen will show a 15 digit string of number. That is your iPhone's IMEI number. Record it and keep it somewhere safe.
Step 2
Give the IMEI number to your Cellular Network Provider for them to track it. However, please check with your service provider as not all provide this services.
Related Posts via Taxonomies