If you have that bad experience of losing your mobile phone, you would be regretting that you have not taken certain precaution and pre-emptive action to make sure you can track your lost phone once it is stolen or gone. However, with the advance mobile tracking technology that we have right now, the possibility to track and recover back your lost phone is now possible. Here in this article we list out the top 3 ways that you can use to track your lost phone.
1. Track your phone using IMEI number
IMEI is an acronym that stands for International Mobile Equipment Identity. It is used as a unique identifier to identify mobile phones in particular. IMEI is only unique to the phone device and not to the subscriber of the phone. Similar to a car that have a unique chassis number, each mobile phone in the world will have a unique IMEI number put by the manufacturer of the mobile phone. GSM network provider used this IMEI number to identify the devices that is connecting to their network. Because of this, the network operator can be contacted and they can assist to either stop your stolen phone from accessing the network as well as tracking your phone. You can read more on how to track phone by using IMEI here. You can immediately check you phone's IMEI number by typing *#06# at your keypad and it will show a string of unique 15 numbers. These number represents your IMEI mobile phone number. You can report your lost stolen phone and submit the IMEI number to the network operator for them to either block the phone or track it.



2. Track your phone using Google services
If you are using a Samsung or any other Android based operating system mobile devices, you can apparently use some of Google services to track your lost phone. One of the simplest way is to track your mobile phone using Android Device Manager. If you have a Gmail account you will already have an access to the Android Device Manager. Make sure to pair your account with your Android based mobile devices. You can visit the Android Device Manager site here to pair your devices. Another option is the Google Location History. You need to enable your location history and it will track any mobile devices that you have and only you can see it. It can even show you the timeline of your mobile devices and you can track the footprint of the mobile devices wherever it goes.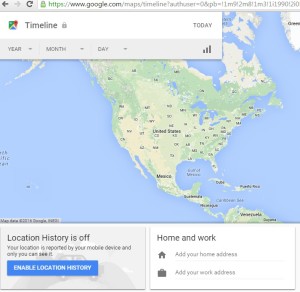 3. Track your phone using Smartphone apps
One of the fastest way to track your lost phone is by using an app. This app need to be pre-installed in your mobile devices and can be immediately be activated from another mobile or laptop to track your lost phone. It can also remotely lock your phone or erase the phone immediately once you realised your phone is gone or stolen. Read more on this here on how to track your phone using apps. The iPhone or iPad normally will already have a pre-installed 'Find iPhone' app that can track your phone or lock it remotely. You can also read more here on how to track a phone without an app.
So, there you have it. The top 3 ways on how to locate your lost phone. We also provided a short animation video above that briefly explain on these 3 methods for your viewing pleasure.



Related Posts via Taxonomies